Hi and welcome to Sewing By Stephanie! Whether you're just stopping by as a part of the Let's Get Acquainted blog hop or are a regular follower I'm happy you're here.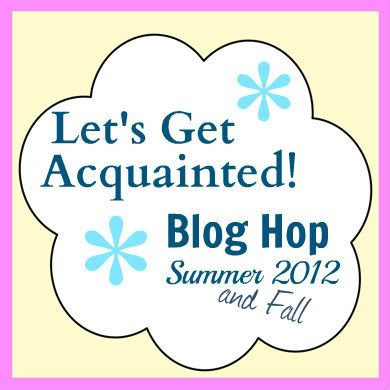 For those of you who don't already know me I'm Stephanie and I've been blogging as Sewing By Stephanie for a little over a year. I started this blog in March 2011 thinking that it would be a fun way to share my finishes with friends and family but as I blogged more and more I discovered that the
re is a whole world of other quilty bloggers out there who share the same passions I do, so now I blog as a way to connect with other quilters online.
With that said, I think it's time we got acquainted!
How long have you been quilting?
I've been sewing since I was 6 but only got into quilting after I graduated college, so for a little over 3 years now.
Harriet's Quilt.
Favorite quilting tip(s)
The #1 tip I have for beginning quilters is to be precise with your measurements and your seams. You'll save yourself a ton on time later on if you're precise to begin with.
Little Leaves Hand Quilting (this quilt won "Favorite Hand Quilted Quilt" in the 2012 Blogger's Quilt Festival)
Favorite blogging tip(s)
Use Flickr! I host (almost) all of my photos on my blog through Flickr and I love it. There are so many great swaps and QALs hosted through Flickr that you're really missing out if you don't have an account.
Padded Camera Pouch & Wallet.
Favorite fabric (or wish list fabric)
I'm currently dying to get my hands on some Out to Sea by Sarah Jane Studios. It's so whimsical and fresh, I love it. Also, as a general rule I love any fabric with either gnomes or dachshunds on it.
Olive's quilt.
Favorite craft book
One of my favorite bloggers when I got started was Alicia Paulsen of Posie Gets Cozy and her book Embroidery Companion is one of my favorites. As far as quilting books go though my first and favorite is The Practical Guide to Patchwork by Elizabeth Hartman.
Dogs on quilt.
Favorite book (or book you are currently reading)
Reversible Tablerunner

.
Favorite children's book
This one's an easy answer. My favorite by far is Pickle-Chiffon Pie by Jolly Roger Bradfield. It's my sister's favorite as well and we fought over which of us would get to keep the original we had in our childhood. She won and got to keep it, but luckily it's back in print so I have a copy for myself as well.
Manly T-shirt quilt

.
Favorite quilting tool
Either my mega mat, my huge ruler, or my rotary cutter. I pretty much can't do anything without all of them!
Favorite music to listen to while quilting
I listen to Pandora a lot while working on my machine. Currently I have it on a country station I made.
I love historical pieces, but I watch pretty much anything. Recently I've been watching Doc Martin and Misfits.
Binding - by hand or by machine?
By machine to the front of the quilt and then by hand to finish. I use the hand binding time to kind of wind-down from making the quilt. It's so relaxing to sit and sew by hand knowing that the quilt I've been slaving over is almost done.
Tree applique quilt I made a friend's little girl.
If I'd only known - what you wish you knew about blogging before you started your blog
I don't really know what to say here. I feel as though I'm still figuring all of this out.
Okay, enough with the introductions. Let's get to the tutorial!
I don't know what the weather is like where everyone else is but where I am it's in the 90's, so today I have a quick tutorial on how to make a cool down for your neck. I'm sure there are other tutorials out there on how to make these since this isn't my original design, but I wasn't able to locate one when I went looking so I thought it might be a good thing to write up a quick tutorial for.
For this you need a few simple ingredients:
-A piece of fabric 36 1/2" long by 4" wide ( I used my favorite Gnoming Around print, it has both gnomes AND dachshunds!)
-Jumbo aqua gems (I bought mine in the floral section at Joanns for about $4)
Optional: a 12-16" length of PVC pipe (I used one of the sides of my lap quilting frame)
Step 1: Cut your fabric to the desired size of 36 1/2 " by 4" wide. Fold fabric along the long edge with right sides together and sew down the long side and along one edge keeping a 1/4" seam allowance. Turn right side out and press.
Sew closed long side and one end.
Turn and press.
Step 2: Using a water soluble pen mark lines along the length of your tube every 6 inches, separating your tube into 6 sections. With your sewing machine stitch along the line you just drew that is closest to the end of the tube that is sewn shut, effectively closing off the section.
Mark lines on the outside of the tube every 6 inches
Step 3: Measure out 1/4 teaspoon of your jumbo aqua gems. Using your length of pipe as a guide, put your aqua gems into the tube (if you're not using a length of pipe you can just put your aqua gems straight into the tube, just jiggle it to make sure that all the gems make it down into the bottom of the tube.) Using your machine sew along the next line, making sure to inclose all aqua gems in the section.
Measure out 1/4 teaspoon of aqua gems
Insert the pipe into the tube and use it to guide aqua gems into the tube.
Step 4: Repeat for the next three sections. When you are done you should have 4 sections that each have 1/4 teaspoon aqua gems in them. The two sections on the outside should have no aqua gems in them. Close off the last side of your tube by turning the fabric in 1/4" and sewing shut.
Turn the end in and sew shut.
All Sewn!
Step 5: Soak your cool down in water overnight until the gems are fully expanded. When you're done you'll have a nice easy way to stay cool in the summer heat!
Soak!
20 hours later and ready to go
!
I have 4 that I've been using and I love them. I took them camping with me and whenever we got a little hot I just threw them in the ice chest and they got nice and icy cold for us. Whenever it gets a little dry you can roll it on your neck or if you need to you can re-soak it and it will get full again. Also, when the summer is over and you no longer need it you can lay it out and let it dry and the beads will go back to their original size so you can store it until you need it again. I should warn you though that you cannot freeze them. If you freeze them the aqua gels will burst and will no longer soak up water (so once they dry out, they're done).
I hope you all enjoyed this quick tutorial! And I hope you come back again soon!!!
Don't forget to go and check out the other featured blogger for today, Kirsten from Gemini Stitches
p.s. I plan on posting more pics of my gnome cool down once it's fully soaked up all it's water, but that will have to wait for the morning!
Edit: I added the pictures of the finished cool down! Hope you enjoyed the tutorial!
Edit: I made a pdf file that details how to use and enjoy a cool down if you want to make one of these as a gift for someone. You can find the pdf here.